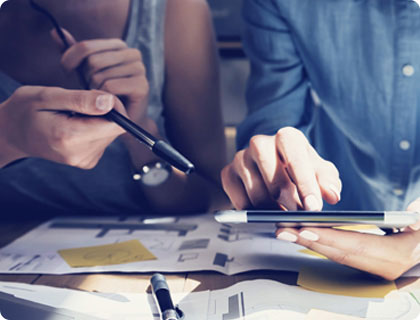 A comprehensive study and specific goals are the first steps in determining your online strategy. In the online strategy, we convert this analysis and goals into concrete activities. For which target groups do we use which channels? What kind of material do we need and when do we need it to attract that target group?
Goals and target group
What are the (online) objectives of your organization? How do you create buyer personas? Which key performance indicators (KPIs) are used to make the objectives measurable? Here are several examples:
The number of sales in your online shop
The number of requests for quotations received through the website
The number of social media followers
The number of Sales Qualified Leads generated through the website
Analysis
What is your current position? What does the term "internet marketing" mean to you right now? What are your biggest rivals? Where do you rank in Google? What is the conversion rate of your website? Where and when do people leave your website? These are things that we like to get to the bottom of right away. We map many of these things out together when you do not know this yet or if you've only just start working online.
Content strategy
Your internet marketing strategy should include a content strategy. What material do you use and on which platform, to direct users to your website? Which problems do you tackle for your target group? What content do you deliver at which stage of the customer journey? What channels will you use to distribute your content? When do you publish which content? All this is nailed down in the content strategy.